27 Apr 2023
Real life wedding - Megan and Alex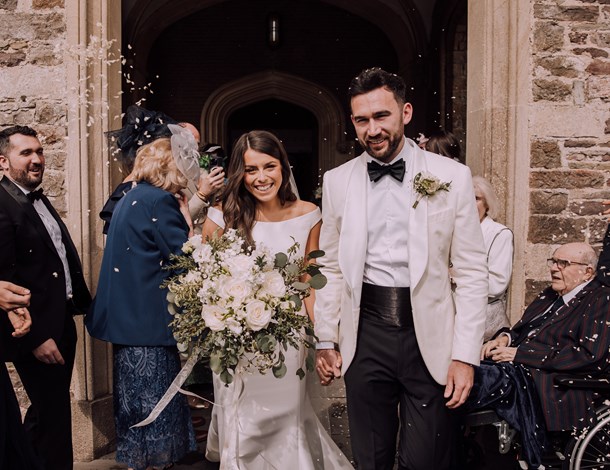 On a Spring day in April we were honoured to host the wedding of Mrs & Mrs Sowerby. Their photographer, Lauren Owens, captured their gorgeous day exquisitely and we were excited to catch up with them afterwards to reminisce on how they met and why they chose our fairy-tale castle for their magical day… 
How did you both meet/get engaged? 
We met at university in Bristol 11 years ago. Alex and I went on holiday to Croatia in August 2021. We decided to take advantage of the lifted COVID restrictions and visited a few of the Croatian islands. Alex hired a private boat for the day where we were taken to secluded beaches and coves. It was in one of the secluded coves that Alex proposed. All our friends and family knew but I was completely clueless! We love our holidays so it didn't even cross my mind that this particular holiday would be a special one. 
Why did you choose Hensol Castle as your wedding venue? 
Alex and I live in Surrey but I was born, and grew up in Cardiff. We viewed a lot of venues in the South East of England but we didn't like any of them. It was by chance we were visiting my family for the weekend and Alex suggested we take a look at Hensol Castle. I managed to get a last-minute appointment that weekend. 
We immediately fell in love with the castle. We loved the traditional yet modern take within the building. We loved that the whole day from the ceremony through to the evening reception, everything could all happen under one roof. It was also fantastic that our nearest and dearest had somewhere to stay at the castle the night of the wedding whilst our other guests could stay at the Vale only a stone throw away.
How did you decide on your wedding décor? 
We both really liked the timeless wedding décor with very crisp neutral colours (whites, creams and greenery). We got a lot of inspiration from previous weddings at Hensol Castle, especially in relation to the flowers that were dressed in the wedding breakfast ceiling. The castle gives you lots of opportunity to put your own spin on décor and we felt the timeless wedding style really suited what we were trying to achieve on the day.
What is the one piece of advice you'd give to couples who are planning their wedding?
We got told this so much in the run up to the wedding but try your best to enjoy the planning and the lead up to your big day. It's much easier said than done, but you work so hard organising and planning your special day it's important to enjoy the run up as much as the day itself. Don't sweat the small stuff as it really won't matter on the day!