01 May 2023
Real life wedding - Elena and Corey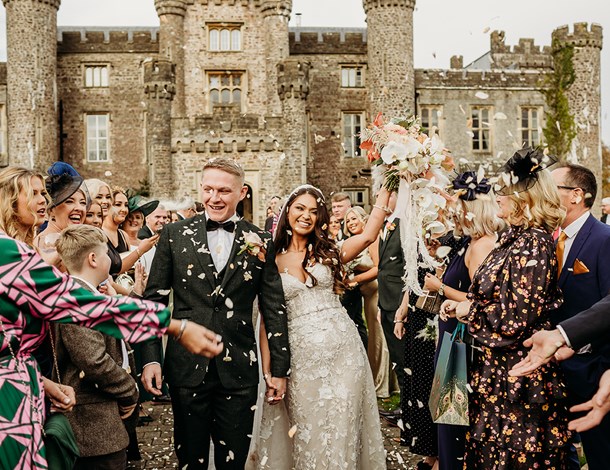 Throwback to just over six months ago when the gorgeous Elena and Corey became Mr and Mrs Morris here at Hensol Castle. We loved their autumnal theme, from the floral design to the elegant bridesmaid's dresses. Captured beautifully by When Charlie Met Hannah, we've included some photographs of their big day below, along with a few words by our stunning bride, Elena. 
How did you both meet/get engaged? 
We met at the young age of 3 on the first day of nursery and went all through school together. At 15 plans started for our Year 11 Prom and Corey asked me to go with him. I said yes of course and on Boxing Day 2011 we became boyfriend and girlfriend. So, I guess you could say we were childhood sweethearts. Fast forward nearly 10 years and it's March 2021 and Wales is coming out of its second lockdown following Covid-19. Desperate for a change of scenery, we booked a staycation at a log cabin at WigWam Aberystwyth. It was here, with our nearest and dearest, Corey proposed and we officially became engaged! 
Why did you choose Hensol Castle as your wedding venue? 
Admittedly, it's always been a dream of mine to get married at a castle so when we got engaged Hensol Castle was the top of my list. I showed the pictures to Corey and thankfully he loved it as much as I did. We visited the venue for the first time in May 2021 and loved everything about it. The castle and its grounds were so beautiful and the staff were extremely friendly. We always dreamed of an autumn/winter wedding but didn't think there would be availability given the backlog Covid-19 had caused. When we asked what Saturdays dates we available there was one Saturday left for 2022 and it happened to be the 19th November 2022. We knew then that it was meant to be and our dream venue was booked and the countdown began!
How did you decide on your wedding décor? 
The wedding décor was pretty easy for us. Part of the reason we wanted and autumn/winter wedding was because we loved the autumnal colours so it was a no brainer. To complement our autumnal colours we went for gold accessories which included candle sticks, picture frames, charger plates, seating plan, welcome sign guestbook and card box. 
What is the one piece of advice you'd give to couples who are planning their wedding?
One piece of advice we would give is be organised and enjoy the experience! We had 18 months to plan our wedding and we booked and organised most details and suppliers within the first 6 months. This meant we had 12 months to just enjoy the lead up to our wedding and look forward to our next chapter. It's true what they say, the wedding day really does go as quick as a blink of an eye so our advice would be to take it all in! Take moments throughout the day to just breathe and be with your new husband or wife. We will always look back on our wedding day with such happy, funny, emotional and  fun memories and there's no other place we would have rather it all happened than Hensol Castle.