05 Jun 2023
Classic Summer Wedding Trends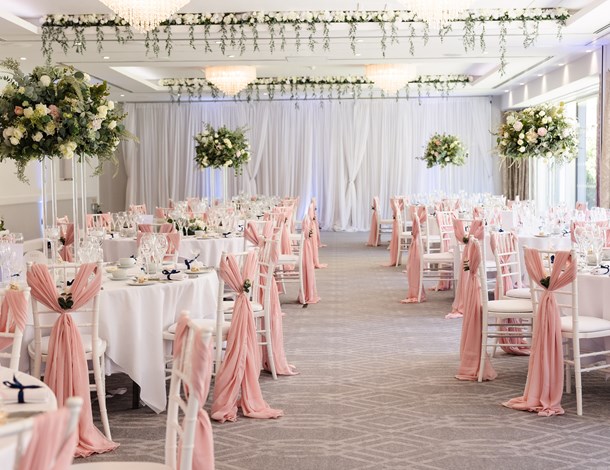 If you are planning a summer wedding, our classic summer wedding trends below might be worth considering. We've also taken some beautiful imagery from Lauren and Michael's Summer wedding, taken by Philip Warren Photography. 
Outdoor Ceremonies
Take advantage of the sunshine and if your venue allows it, consider an outdoor ceremony. At Hensol Castle you can get married in the glorious sunshine under our bandstand, overlooking our 15-acre lake and pontoon.
Light and Airy Colour Palette
Summer is the perfect season to opt for a soft, pastel and neutral colour palette. Or alternatively, you could choose cheerful colours that reflect the summer season. Popular choices are usually blush, mint, lavender, coral and classic white.
Floral Details
Embrace the flowers in bloom during summer by incorporating them into your wedding décor. Lush bouquets, floral arches and centrepieces using roses, peonies and sunflowers are super popular during summer weddings at Hensol Castle.
Flowing Fabrics
Choose lightweight and breathable fabrics for your wedding dress and bridesmaids' dresses. Fabrics like chiffon, organza, or lace work well to keep everyone comfortable in the summer heat.
Natural and Greenery Décor
Enhance the natural beauty of your venue with greenery accents, such as garlands, foliage-filled centrepieces, or hanging installations. This trend adds an elegant and organic touch to the overall decor.
Refreshing Drinks and Signature Cocktails
Offer refreshing beverages like lemonade, iced tea, or fruit-infused water to keep your guests hydrated during the warm weather. Additionally, consider serving signature cocktails that incorporate seasonal fruits and herbs.
Natural Hair and Makeup
Keep your hair and makeup soft and natural, embracing the effortless beauty of summer. Loose waves, braids, and natural-looking makeup are popular choices for a classic summer bridal look.
Outdoor Lighting
Take advantage of the longer daylight hours and mild evenings. Ask ahead of time to see if your venue has fairy lights and/or lanterns so you can take advantage of romantic, sparkling, photography. Here at Hensol Castle we have lots of glistening lights placed on our bandstand, perfect for those sunset or night shots.
Remember, classic trends are timeless for a reason, so don't be afraid to incorporate your own personal style and preferences into these ideas to create a unique and memorable summer wedding experience.
To enquire about having a classic summer wedding at Hensol Castle, email our team at sales@hensol-castle.com.